Welcome to Jayne's Biography!

Emmy-award winner (1990) and five-time Emmy nominee Jayne Meadows' performance in Neil Simon's Lost in Yonkers was called a "triumph," "superb," "the performance of a lifetime," by the critics and won the 1993 Drama-Logue Award for Best Performance by a Stage Actress in a drama. With her husband, Steve Allen, she recently performed A.R. Gurney's two-character play, Love Letters, in San Francisco, Los Angeles, Salt Lake City, and Hawaii.
Jayne's career is the stuff dreams are made of -- a Broadway comedy star in her teens -- a film dramatic actress performing opposite the likes of Hepburn, Niven and Peck -- a television star with innumerable prestigious dramatic and comedy roles as well as five television series: "I've Got A Secret" (CBS - 7 years), "Medical Center" (CBS - 3 years), "Meeting of Minds" (PBS - 4 years), "It's Not Easy" (ABC) and a featured recurring role on the CBS TV comedy series, "High Society" for which she received an Emmy nomination (1995).
Throughout, Jayne has enjoyed extraordinary critical acclaim and has received many honors, including, most prominently, the American Book Award 1988, her five Emmy nominations (1979, 1987, 1988, 1989, 1995) a Grammy nomination (1985) and the 1990 prestigious International Platform Association Award for her one-woman show, Powerful Women in History, with which she toured the United States for six years.
She received the Susan B. Anthony Award for her contribution in portraying women in positive roles, and in 1981 was presented with the first award given by the National Organization for Women for her TV portrayal of Ms. Anthony. She is also the recipient of several Doctor of Humane Letters degrees from various universities.
As a teenager, Jayne made her debut on Broadway in the comedy Spring Again, and went on to star in six more Broadway shows. However, it was the Broadway hit The Gazebo (opposite Walter Sleazak) that established Jayne as a top comedienne. She had been called to Hollywood to begin a successful film and television career and her return to Broadway in the revival of Kaufman and Hart's classic Once in a Lifetime was met with rave notices.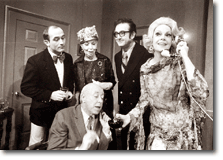 Tonight at 8:30
Click here to continue.